Tonic and Citta Introduce Hand Knit Pashmina Scarves to Support Women's Center in Nepal...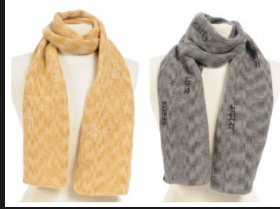 Tonic and Citta Introduce Hand Knit Pashmina Scarves to Support Women's Center in Nepal...
$100 for 100 Women in Need - Queen Latifah, Sting, Scarlett Johansson, David Bowie, Susan Sarandon, Natalie Merchant, David Byrne & Thandie Newton among Celebrity Participants.
Tonic, the leading media and ecommerce site focused on effortless activism and social good, announced today their new partnership with Citta for a project that will benefit women in both India and Nepal. Beginning today, visitors to www.tonic.com can purchase a unique 100% pashmina scarf, designed by Lucy Barnes and hand knit by the women of the Citta Himalaya Women's Center with proceeds funding the new, Jaisalmer Women's Center in Rajasthan, India. The scarf, which retails for $100 will help 100 women in need in India. Tonic partnered with Citta, an organization that supports remote and impoverished regions of the world, and asked several creative minds who transform the way we see the world through the words they choose, to select a word that holds importance or meaning in their lives. The Himalayan women hand embroidered the select words to each scarf in Sanskrit, providing them with training for valuable skills they can use in the future and a salary that allows them to feel independence and contribute to their families.
Participants include Queen Latifah, whose chosen word is "strength," Sting, whose chosen word is "resolve," Scarlett Johansson, whose chosen word is "reuse," David Bowie, whose chosen word is "funk", Susan Sarandon, whose chosen word is "awake," Natalie Merchant, whose chosen word is "silent," David Byrne, whose chosen word is "dust", and Thandie Newton, who selected "surrender."
The hand embroidered scarves made of 100% 2 ply pashmina retail for $100 each and are available in gray and camel and are sold exclusively on www.tonic.com. The fine cashmere wool comes from changthangi or pashmina goat, a special breed of goat indigenous to high altitudes of the Himalayas.
Ten percent of every sale will fund the new Citta Jaisalmer Women's Center in Rajasthan, India where women will have access to classes on health, hygiene and nutrition for not only themselves but for their families as well. Another ten percent will go to The Tonic Foundation, the charitable arm of Tonic that supports causes that Tonic members and customers identify by taking action on www.tonic.com.
"Words can be positive, powerful tools. They can mobilize a nation to independence or relay confidence to an army winning a battle against all odds. Words can transmit love from one being to another, or convey the mysteries of life from a teacher to a student," said Michael Daube, Founder of Citta. "I am excited to partner with Tonic on this important collaboration which uses powerful words to provide skills and economic development for the women of the Thar Desert."
"To have this unique opportunity to partner with an organization as great as Citta and help women in need in both Nepal and India is something that Tonic is very proud to be a part of" said Pankaj Shah, Founder and CEO of Tonic. "With the help of these words that carry such significance, we hope to leave a lasting impression with the public which will, in turn, result in a massive joint effort to help those in need."
ABOUT TONIC (
www.tonic.com
)
Tonic is the leading media, ecommerce, and community site focused on effortless activism and social good, making it easy for people to do good things every day. Tonic.com features the latest news and content focused on effortless activism and social good and "positively good" human interest stories about people doing great things while offering valuable information on results-driven causes that make an impact. Additionally, Tonic sells high quality products and services that have an added benefit of making something good happen in the world. Founded by entrepreneur Pankaj Shah, Tonic is supported by a diverse and impressive Board of Creators including Island Records founder and Rock and Roll Hall of Fame inductee Chris Blackwell, son of legendary investor and businessman Warren Buffett and musician Peter Buffett, fashion designer and philanthropist Donna Karan, music industry executive Phil Quartararo, Efficient Frontier Chairwoman Ellen Siminoff and Whitney Williams, Founder & President of Williamsworks.
ABOUT CITTA (
www.tonic.com/projects/citta/
)
Citta, whose name is derived from the Sanskrit word for 'compassionate mind', is an organization that is aware that people of different paths share the same world. Citta is a registered charity dedicated to providing assistance to marginalized or indigenous communities and assisting those in extreme economic, environmental, or political distress. By helping these communities, we seek to build and sustain institutions essential for their survival. Our goal is to help create infrastructures that will be maintained by the communities themselves, and to help create a more fully realized global unity in which everyone has a chance to participate, while preserving ways of life for the future.