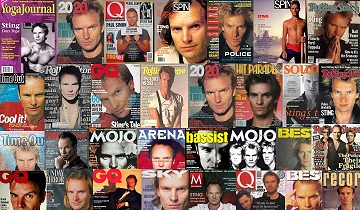 The following article by Antony Otera appeared in a May 2017 issue of the South China Morning Post...
Ahead of Hong Kong show, Sting talks about new album, the deaths of fellow pop icons, and what he loves about the city.
In an exclusive interview ahead of June 3 gig, the British music legend reveals that mortality was a key theme of album 57th & 9th, and wonders why Englishman in New York is a fan favourite in Hong Kong...
Sting says that I Can't Stop Thinking About You, the first single off his latest album, is about "the obsession of a writer who every morning faces a blank page and wonders what on earth he's going to fill it with".
While it might be hard for many of his fans to believe he would have to deal with writer's block, the Grammy- and Brit Award-winning artist, who has sold more than 100 million albums – both as former frontman for The Police and as solo artist for the past 32 years – admits that finding inspiration is sometimes a waiting game.
"I've certainly struggled with writer's block at various times throughout my career," he tells SCMP.com ahead of his latest concert in Hong Kong on June 3.
"As I've gotten older, I've become more critical and demanding of my own work. That can strangle the creative inner child in you, and so it gets harder and harder to write. I can only do what I'm inspired to do, and sometimes finding that inspiration is a challenge, while other times it comes quite easily. For me, I just have to wait for that inspiration to find me, and be receptive when it does."
That's not to say that the British singer-songwriter had to wait long to find ideas or inspiration for his latest album, despite giving himself a gruelling deadline to record 57th & 9th. Many are saying the album is a welcome return to pop/rock by the artist whose musical catalogue is infused with a number of different styles, from reggae and jazz to classical and world beat.
"This record was made in a rather impulsive way. It was just me going into the studio and having fun with people I know and love, musicians I trust and who trust me, and saying, 'Let's just play musical ping-pong and see what kind of things transpire.' The result is a sort of omnibus of everything that I do, but the flagship seems to be this energetic thing. Some try to label it 'pop' or 'rock', but I just see it as Sting music."
There's a child in all of us that looks at cultural icons and thinks, 'How could they die?'
The man formerly known as Gordon Sumner describes himself as a citizen of the world, "living in these times and reflecting on them on a daily basis". On the new album, he dips his toes into the subjects of climate change (with One Fine Day), refugees (Inshallah) and mortality (50,000).
"I can't help but to have [these issues] inform and inspire my songwriting, but it's not my aim to beat people over the head with a message. I like to package my thoughts into the songs subtly and let the listener unwrap them in their own way."
On the subject of mortality, the album was written and recorded in late 2016 – a year in which a slew of entertainers whose names were part of the pop culture lexicon passed away, including Prince, David Bowie, and actor and friend Alan Rickman. It's no surprise that the passing of these greats, who were Sting's contemporaries, would have a personal as well as artistic impact on the singer.
The song 50,000 from the new album is from the point of view of someone who's been there watching his friends die and facing his own mortality, the 65-year-old says. These deaths have also given Sting cause to pause and reflect on his own mortality.
"There's a child in all of us that looks at cultural icons and thinks, 'How could they die?', because we've invested this sort of godlike immortality to them. Mortality is something that, once accepted, is not morbid. If anything, it makes your life richer – at least, that's the philosophy I'm working to develop. I'm not ready to die at all; I've still got work to do. But an acceptance of it for all of us is a useful thing, because that's the reality."
Hong Kong is a dynamic city. I like its scenic and architectural drama, its economic vitality and its cultural diversity
The next bit of "work" on Sting's docket is his one-off performance at the Hong Kong Convention and Exhibition Centre this coming weekend, as part of a world tour. He says he's looking forward to playing for the Hong Kong fans in his first live performance in the city since 2012's "Back to Bass" tour.
"I'm really looking forward to performing in Hong Kong again. I appreciate the fans' loyalty and support there. Wherever I play, I often see people I recognise from 15, 20 years ago. I love touring and I still get a buzz from being on stage. There's no way to describe the feeling of playing for thousands of people who are pleased to see you. That's something you can't help getting excited about."
Sting says his 1987 song Englishman in New York always seems to be a fan favourite in Hong Kong, "though you'd have to ask [the fans] why".
"For me, as hard as I work on each record, it's not always the end result. The end result is usually the tour. You put a record out and then you tour with it, and the songs evolve into something slightly different, whereas the album is more definitive."
Hong Kong fans can expect renditions of their favourite songs from the Sting/The Police catalogue as well as tunes from the new album.
"This show is a good mix of music from throughout my career including the new material. It will be a full evening of music, including musicians jumping on and off the stage. We have my son Joe Sumner [frontman of rock band Fiction Plane] starting the show, followed by this great band from San Antonio, Texas called The Last Bandoleros. Then they will stay on and back me and my band, which includes the great Dominic Miller on guitar, his son Rufus Miller, also on guitar, and world-renowned drummer Josh Freese."
Sting has been performing live for more than 40 years, so how does he keep things fresh?
"Even with a song like Roxanne, which I've probably sung thousands of times, there is always something new to be found," he says. "It is my job to sing these songs every night with the passion and same sense of discovery as when I wrote them. I do think that much of the material has taken on a new life due to this fantastic group of musicians. And it's been great to play some songs that we hadn't really done in a while."
Sting says he's also looking forward to squeezing in some sightseeing while in town. "Hong Kong is a dynamic city. I like its scenic and architectural drama, its economic vitality and its cultural diversity," he says. "I always enjoy getting on the ferries and seeing the city from the water."
There's every possibility that we'll keep seeing the much travelled Sting in Hong Kong in the future, as he has no intention to hang up his bass and microphone any time soon.
"I have no idea what comes next, but standing still is not an option," he insists. "I don't want to put my feet up. I think as long as I can sing in tune, I'll sing. Working and being creative makes me happy."
Returning to the subject of mortality, Sting says he doesn't want to be remembered solely as an artist.
"I never want to be relegated to one category, in music or in life. To me, creative freedom is success, and I've worked hard to get to a point where I can enjoy that freedom. Of course, I am also immensely proud of my family."
(c) South China Morning Post by Antony Otera