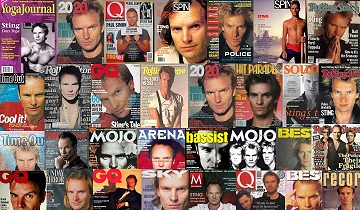 The following article appeared in an April 2021 issue of Readers Digest...
Sting returns to a place of collaborative creativity with the release of his new album Duets; even if, in almost every other way, he continues to find comfort, innocence and improvement in blissful isolation.

He is Sting, he is Gordon Sumner, he is the ex-frontman of one of the most pioneering bands of the post-punk era, who sold 75 million records worldwide; he is the man to ask about a Police reunion, right? Wrong.

Speaking to Sting, it can feel like the go-to topic for every lazy or poorly prepared interviewer. Even a journalist suddenly finding themselves bereft of any other questions would be best advised to steer clear from probing the idea of the London—formed three-piece linking hands again, instead perhaps commenting on the impeccable style or excellent health of the 69-year-old frontman.

It's not because Sting is particularly offended by the approach, nor that he has spent the best part of four decades cultivating a reputation as a wholly content solo artist (although that's true).

Perhaps it's more than he is a creative who doesn't necessarily crave the company of others (recent company excluded as far as go his invited contemporaries on Duets).

To typify this, there is an intriguing shot at the end of The Police's final gig, held at the Melbourne Showgrounds on March 4, 1984. Drummer Stewart Copeland and lead guitarist Andy Summers stare out into the worshipping crowd knowing the era of the band had come to a close just a few moments before; the camera lingers on their faces to capture the raw emotion of the moment, as the congregation pours a sombre, messy mass of elation and profound sadness onto the musicians. And then there's Sting—grateful for the adulation but, instead of reflective and melancholy like almost everyone else in the arena, he's alive, excited and focused straight away on the solo experiences he knows he is going to create for himself.

Even when the band reformed in 2007 for a somewhat ill-fated reunion, the 151-date project replenished bank balances, sure, but it also cemented the reality that these were three men who should leave the past exactly where it is.

"At the time I labelled the tour an exercise in nostalgia, and that was simply how I felt, and is still how I feel today," Sting begins. "I think it's okay to be honest about your feelings and that was the way it went for me."

"That's not a slight on the people I was with or the way things panned out; it's just how I saw it by the end; and let's be honest, that's not how I wanted to remember it. If I thought that would be the emotion I'd be leaving with I wouldn't have done it in the first place."

Sting's bandmates have been similarly non—complementary, not so much about the experience, but when commenting on their frontman's aversion to life as a threesome.

"I think it happens to all these white male singers - it's a classic mistake," says Andy Summers. "The singers all want the solo career - they should go and do a solo album then go back to the power base where the real chemistry and magic is, because you'll never get that chemistry and magic again. It was the sound of the three of us—that's what made it, and it's never been as good since. Look at the tour—we had an incredible turnout all across the world, and no one can do that on their own."

Deep down, you know Summers yearns for Sting to feel the same way he does. Like a scorned lover desperately trying to convince an ex they still have feelings towards them. Yet, there are far too many frayed emotional ties to make another reunion a possibility. And it would be pointless. Not only did the experiment fail, twice, but Sting is entirely his own man now, to his immense credit… which takes us back to why he wouldn't want The Police back together.

"I think there is a freedom in being a solo artist," he says. "It's not a power thing, at all—it's just about producing exactly the brand and style of music that feels right for you."

"Music, in every form, is a collaborative process, but never more so in a band, where you have to consider other people almost more than you do yourself. To have total creative freedom is, for me, the ultimate thrill of being a solo artist."

So while some music journalists have speculated that Sting's ego was the thing that broke up the band, they should perhaps note that it's a commodity conspicuous by its absence for a long time. The songwriter, in 2021, is, ultimately, a man at peace. He is reflective, satisfied in his achievements, and undoubtedly driven by creative satisfaction rather than anything cloaked in industry awards or dollar bills.

"It's great fun to have a hit record, it really is, but it's not why I make records, and it never has been, to be honest. It's easy to get swept along in the excitement of the charts—a lot more so in the Eighties than it is today—but the truth is I make records out of love and curiosity, even if it's always nice to have something on the radio."

For someone who celebrates five decades of songwriting in 2021, and whose music has crossed multiple genres—rock, pop, folk, reggae and new wave being in particular abundance—Sting's influences continue to harness breadth and bravery. "When I make a record I want to go on a journey. I need to learn as much about music as the listener—that's really important to me."

"It's been a long time since I went into a project wanting to play it safe," he continues. "Neither do I want the musicians alongside me to play it safe, which is often why I will take some musicians out of genre—you cannot perform to your optimum if you are in a safe, protected environment. Everyone needs to sit on the edge of risk and failure to get the best out of themselves."

"I'm always trying to broaden what I listen to. Everything I've ever heard—bad good and indifferent—has conditioned my opinions about music. I don't believe there are any bad experiences."

Indeed, Sting is a man of culture and influence that stretches way beyond the sound that emanates from a speaker. Long before The Police signed their first record deal with A&M in 1977, the musician's pursuit of experience saw him immerse himself in the brutally diverse environments of building sites, office spaces and even school staff rooms.

"I liked all of those jobs, albeit in very different ways," he said. "I was never embarrassed about any of the jobs I did—they all connected me with real worlds, and it wasn't until I was 26 that the music industry presented itself to me."

"I'm glad of that," he says. "I'm glad I had many years of struggle and obscurity because that has only helped my psychology. If I hadn't had so long on the other side, I'm not sure how I would have survived fame."

From early days earning his stripes around the Polish clubs of his native Wallsend on North Tyneside, where watching bands live could mean dodging punch-ups and the opposite sex in equal measure, Sting admits he struggles with the trend of modern era music entertainment where 'musicians' are cherry-picked on reality shows. In a matter of weeks they are transformed from everyday members of the public to global superstars, and that's problematic, he says. "I feel the reason a lot of them crash and burn has much to do with the way that exposure comes about in the first place. You can ride the wave for a while, but so many of those careers are built on loose foundations, on being fast-tracked to the top."

"The music industry is much like any other—there comes a point where it will need you to have done the hard yards, and if you haven't, it can be very difficult to sustain the whole thing."

If there was someone who could shadow new entrants into the industry, it would undoubtedly be Sting, yet his time is best spent elsewhere these days. He remains a fierce devotee to philanthropic causes, having previously nailed his colours to the masts of Friends of the Earth, Amnesty International, victims of the September 11 attacks, plus humanitarian projects in Brazil and Tibet. And in June he will be back out on the road with his My Songs tour. In his spare time he's even making efforts to listen to his own music.

"I do that from time to time, it's true," he reveals. "It's much nicer now there is a vinyl revival and we can all share in this incredible medium together. I had the great privilege of putting a record on the other day—you know, taking it out of the inner sleeve, putting on the turntable and lowering a needle onto it and hearing that lovely noise before the music starts. It's a fantastic ritual that I actually miss so much that I'm going to go back to that - I'm going to go back to vinyl!"

Whether Sting's regression ends there, we will have to wait and see. In recent years there are hints of a rebelliousness in collaborations that imply he's not willing to simply fade away into one genre; and in fairness, he never has. From allowing Puff Daddy to sample his music, to making an entire album with Shaggy in 2018, to performing with artists as diverse as Craig David, Eric Clapton, Sam Moore and Julio Iglesias—it's all proof of a man still enthralled and enchanted with music… and, indeed, the world around him, in all its forms.

"I am a citizen of the world—I vote, I pay tax, I'm a dad, I'm a husband. And this world isn't any madder now than it was before; it's just that in the past it was presented to us then gone… people didn't pore over it on social media for hours and hours.The important thing is we fill our lungs and keep breathing it in."

For all his occasional seriousness, for every time he speaks his mind with bruising honesty, for everything he favours that is a distance from those rebellious post-punk roots—countless musicians half his age have long since given up on discovering something new about themselves, their music and the spaces around us. For Sting, the search goes on.

(c) Readers Digest by Danny Bowman