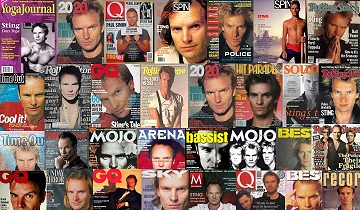 The following article appeared in a November 2021 issue of The Sydney Morning Herald...
'I'm old enough to remember kids crippled with polio': Sting's post-COVID return

For an artist who's toured almost continuously since 1974, the pandemic's spell of enforced domesticity was an odd experiment for Sting.

"It was an interesting opportunity to be home for a long period of time, to be in the same bed every night. I got to know my wife a lot better," the 70-year-old jokes from a hotel room in Paris, a hub between the homes he splits in Italy, New York and England with partner Trudie Styler.

Of course, my mind went there. I don't know if the infamously tantric master meant it, uh, that way, but let's give him the benefit of the doubt. The past two years of relative isolation could leave even the most veteran celebrity a little press-rusty.

Sting returns with new solo album The Bridge and hope for live music's post-COVID renaissance.

For Sting, the interruption to his professional routine also sparked some existential questioning.

"I wasn't quite sure what was going to happen or what to do. Like everyone else, I was sent home from work."

He passed the time in his home studio, "to amuse myself, more than anything," he says. "Eighteen months later I have a record out, against the odds."

His 15th solo album, The Bridge is a weighty release reflecting the kaleidoscopic moods of the pandemic: death, solitude, escapism, hope. Sombre ballads like The Book of Numbers and The Hills on the Border are biblically dense; The Bells of St Thomas is evocative sophisti-pop; upbeat opener If It's Love is a romantic eruption of whistling and handclaps.

"Well, you know, I'm a nice bunch of guys," Sting laughs of the album's scattershot tone. "The record isn't just one mood because I wasn't just in one mood. Some people hear music and they see colours; I see stories, characters, situations. I'm fortunate in that I have no idea what's going to come up, and that's cool."

When we spoke in late September, with the world finally on the verge of reopening, Sting itched to return to the touring life, prepping for gigs in Sicily and Athens ("I'm playing in ancient ruins which is appropriate because it's my birthday on October 2," he quipped) and his first Las Vegas residency at Caesars Palace's Colosseum.

Unlike his contemporaries Eric Clapton and Van Morrison, who have decried vaccine mandates at gigs, he has no patience for anti-science dawdlers getting in the way of live music's return.

"I had no hesitation about being vaccinated because I'm old enough to remember kids in my street crippled with polio," he says. "Vaccinations eradicated that, and, you know, people who are vaccinated are not dying [from COVID] at the rate that people who aren't vaccinated are, that's clear.

"My feeling is people come to a concert and they want to feel safe, there's no other way. So I'm not one of those people who had any doubts about it."

Although the former Police frontman is far removed from his post-punk roots, the Las Vegas residency is itself an unexpected turn. While acts such as Elton John and Celine Dion have reportedly copped upwards of $US500,000 a gig for their Vegas stays, Sting says the appeal was in the opportunity to bring his classic repertoire into a "new context".

"The songs are organic things. They need to be fed oxygen now and then to keep them fresh, keep them alive.

"A Vegas residency sounds like a sentence, but it's not really what it used to be. It's just three weeks of four shows a week, and then you repeat that down the line in, like, six months time. It's quite easy."

Pop musicians of his stature who've continued working into the streaming age have exhibited a similar sort of ambivalence towards their esteemed work. It's caused a trend in high-profile songwriters selling their catalogues for ludicrous amounts – Bob Dylan for a reported $US300 million, Paul Simon for $US250 million.

According to a 1997 report in Variety, Sting copped to the trend way earlier, selling his catalogue to EMI that year for $US35 million.

"No, I didn't," he says.

Oh. Some proto fake news then? It's perhaps for the best, 'cause by today's prices $US35 million for a catalogue featuring Roxanne, Every Breath You Take, Message in a Bottle and the COVID anthem Don't Stand So Close to Me is highway robbery. Is it something he's at all considered?

"Are you making me an offer?" he jokes. "You have to consider things like that but, you know, you just consider them. But if you're not making me an offer then, well, I don't know. You don't write songs for money."

Sure, but $US300 million?

"That's not the point, at all."

Note to self: don't ask Sting about his finances next time.

At 70, Sting has remained busy beyond music. This year he also featured in the hit comedy series Only Murders in the Building with Steve Martin and Martin Short.

"I worked with them both on Saturday Night Live a couple of times and I enjoy their company, I enjoy their comedy, and they said they were working with this phenomenon called Selena Gomez, would I take part in it?" he recalls. "The script was fun, so I said sure. And it turned out really well."

On the show Sting played "Sting", stuffy neighbour to the main trio who may or may not have poisoned Short's dog.

"It was a version of myself, but not entirely the truth," he says of the role.

It must have been fun to send up his public persona, to take the piss out of the serious, self-obsessed rock star?

"Oh no, that part of it was true," he laughs.

He took on another acting role this year, he says, in a film called Kaamelott, a spoof of King Arthur's Round Table shot in France. Unlike his music, it's a fun diversion.

"I've made a lot of movies and I've acted on stage a lot but it's not my passion, so I don't want to get in the way of people who really want to act. But if somebody specifically asks for me, I'll do it," he says. "In that one I played the leader of the Saxons, who doesn't speak very good French and isn't very smart, either. It was the perfect role for me."

Sting's The Bridge is out now via A&M/Universal Music.

(c) The Sydney Morning Herald by Robert Moran